Department Of Motor Vehicles Approved Bargain Driver's Education Program
When you sign up for a Driver's Education program, consider all your available options. In CA, the Department of Motor Vehicles allows you to fulfill your teen Driver's Education requirement online. Furthermore, a recent Department of Motor Vehicles study has shown that teens receiving internet Driver's Education instruction actually scored higher on their exit tests than teens taught in the traditional classroom setting. So choose the interactive method of Driver's Education that teens can relate to more effectively - you'll be impressed with just how much more they learn. But do not take our word for it, test drive a FREE trial of our on line program and see what everyone is talking about!
DMV Licensed Driving Instruction For Gaining A CA Operator's License
Keep taking the final test until you get a passing score! Just review the course chapters and finish the final test as many times as you have to have - free of charge!
Course purchase bonus over 200 free practice learner permit exams on-line
Most reasonable price Guaranteed - we'll match any competitor's current advertised price for their Dept of Motor Vehicles approved computer based Driver Education course you can find (in CA only)!
Pupils like our home-study, Interactive chapters that don't bore you to sleep

A True Bargain Drivers Ed Leader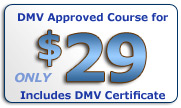 BargainTrafficSchool.Com has partnered up with the top company in the on-line Driver's Education business: DriversEdDirect.Com. When you choose BargainTrafficSchool.Com, you get Bargain Driver Ed at a discounted price and the BargainTrafficSchool.Com full guarantee - the top CA accepted Driver's Education program available - now that's CA Driver's Education you can depend on!
Don't Overpay For Your Computer Based Drivers Education.
Now you can enjoy our internet California Driver Education for as low as $29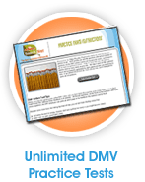 Yes! Drivers Education Requirements For Teenagers In CA Can Be Completed By Bargain Drivers Ed Online!
Good news for teens in CA who want to earn a driver's license - Our Online Driving School program is approved by the California Department of Motor Vehicles!
More Reasons CA Driver Education Is The Best Solution For Your Loved One
Become a Better Defensive Driver
Find DMV Resources in CA
Free Drivers Education Articles
In Car Driving Lessons for Select Areas

* Price matching for CA Internet DRIVERS ED Courses only